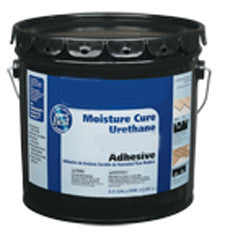 Rubber Flooring Glue & Adhesive
The moisture-cured urethane adhesive for rolled rubber flooring and strip is suitable for commercial or residential applications.
The 3.5 gallon bucket covers approx 220-250 sq. ft. at 1/16" trowel size over smooth concrete.  Other substrates may consume additional glue and lower your spread rate.  YOU are responsible for ordering the correct amount of adhesive so that you are not short.
*** Glue is NOT returnable
Versatile and easy to use
Contains no water – will not cause warping or buckling
Long working time
Excellent bond strength
Excellent initial tack holds securely during installation
One-part product – no mixing

Moisture Cure Urethane Wood Adhesive is designed for installing rolled rubber flooring over concrete, cementitious underlayments, wood substrates, cementitious terrazzo.